After being so philosophical in that last post, I think I'll bring something different in here.
Oliver really likes the BMW Mini: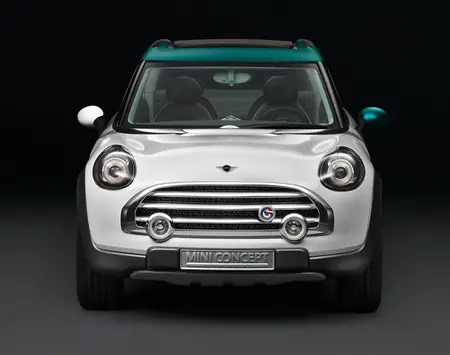 We've got a car magazine with a Mini concept on the cover and he loves it. The magazine is several months old, but we keep it around. I think he likes the photo because it kind of looks like a face and it makes him laugh.
Speaking of laughter, the other day I was reading the
Dorling Kindersley Visual Encyclopedia
(a book I bought as a freshman in college for a screamin' deal at the university book store), and it stated that at the time of publishing (1995), the record for the number of people to fit into the original Austin Mini was 24.
That's 24 people in this car all AT THE SAME TIME. The other night I was thinking about how they made that happen, and I decided that I would not want to be the first guy to get in the car all curled up in a ball in the back. Nope, I'd want to be number 24.