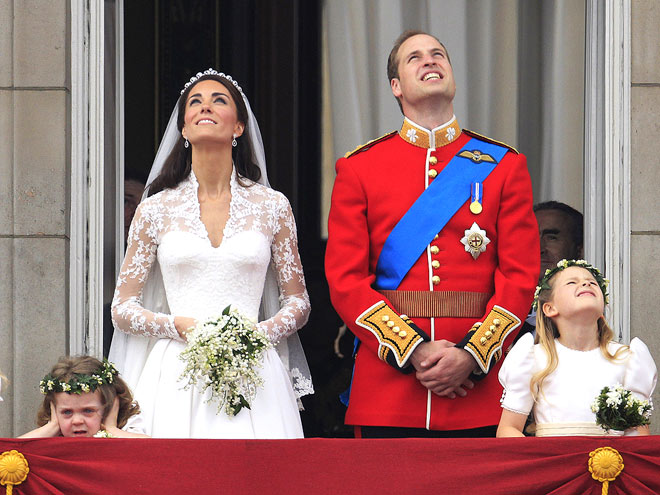 So if you ever watch or read the news, you know that
the Royal Wedding
and the following activities are happening today. I believe the
media
has been doing a countdown for the event for over two weeks now. Every morning as I jog, the news shows announce the countdown, "9 more days 'til the Royal Wedding." I was getting quite bored with it all and Jess and I joked yesterday, "Can't wait for the wedding tomorrow!"
Well, the wedding ceremony happened this morning (London is 5 hours ahead of us), and when Jess got back from his workout, and I was slowly waking up, he sarcastically exclaimed, "You missed the wedding!" You see, he was up around 7ish and got to view some of it LIVE as he jogged. To my surprise, I was actually a little bummed. I put on my running shoes and headed downstairs to run.
But have no fear! It just so happened that the media was preparing for the couples' first public kiss while I jogged. In fact, they had a countdown for it too, "5 more minutes until the kiss. How long do you think will it be? My bet is on 1 to 2 seconds. Whose head will be more in the front? Will we be able to see Kate's diamond earrings?" I was getting bored again. But as soon as the couple came out in all of their splendor, the magical magic of the wedding swooped me up and there I was, on my second mile, really feeling like something great was happening (and loving that the morning news was uplifting). There is something fantastical about it all, really. And then, as is tradition, some WWII RAF Spitfire and Hurricane planes did a fly by over the palace. Wonderful.
Later on in the morning, I found myself changing my outfit a couple of times and getting frustrated with the morning's tasks. As I apologized to Jess for my attitude, he remarked, "I understand, it's just that you wanted to be at that wedding this morning, didn't you?" I laughed. He was right.
Canapés
anyone?